The Toward Home Alliance (THA) held its Inaugural Homelessness Conference on Wednesday, 31 August, with this year's theme – 'Connecting the Dots: Practice, Policy, Advocacy and System Reform'.
A workforce professional development initiative, the event focused on celebrating and recognising the THA workforce, bringing together more than 180 delegates from the Toward Home Alliance (THA), representatives from government partner the SA Housing Authority, other homelessness sector colleagues, speakers, panelists and partners to share, learn and inspire.
Emceed by THA's Strategic Lead, Livia Carusi, the conference is the first of a series of annual signature events in the workforce development calendar, with the main purpose to provide frontline staff an opportunity to hear from and connect with some of the nation's thought and practice leaders:  to see what works, what's coming next, and invigorate practical solutions to some of society's toughest challenges.
"We hope that delegates have walked out of the room feeling charged to continue their work with and for people experiencing or at risk of homelessness, to strengthen their resolve and build on the collaborative ecosystem of services and advocacy that the Alliance is founded upon," Ms Carusi said.
Held in the Rydges Skylight room on Kaurna land, a moving and mindful Welcome to Country was given by Deb Buckskin and Isaac Hannam, who are both involved in work with Alliance partner Baptist Care SA. Each told stories so vividly that many felt a window had opened in the room; a window to family memories, language and the continuing richness of living Aboriginal culture.
Toward Home Alliance Chair and Lutheran Care Chief Executive Officer, Rohan Feegrade, also welcomed the delegates and paid special tribute to the dedicated frontline workers before introducing and thanking the Minister for Human Services, the Honourable Nat Cook, for her visibility and commendable commitment to improving the lives of all South Australians.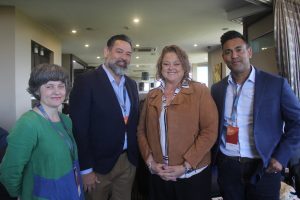 The event reached maximum capacity and booked out early in the registration process, which was little surprise, considering the list of local and interstate key note speakers, experienced workshop presenters and panel members outlined in the high-calibre program.
Keynote speakers included:
Neil Willmett, Chief Executive Officer of Aboriginal & Torres Strait Islander Housing in Queensland
Carmel Williams, Director, Centre for Health in All Policies Research Translation, SAHMRI
Nathan Klinge, Chief Executive Officer of RSL Care SA
David Pearson, Chief Executive Officer, Australian Alliance to End Homelessness
Dr Heather Holst, Victorian Commissioner for Residential Tenancies – special guest speaker of the Pre-conference Dinner
The conference speakers touched on the need for appropriate and affordable housing as a human right, the intersection between housing and health, the historic disparity of housing wealth and diversity of need within specific cohorts.
The morning Panel Discussions looked at: Improving and integrating healthcare responses for people experiencing homelessness; and, Ending Veteran Homelessness – A Systems Approach. In the afternoon, a series of workshops focused on Improving Outcomes for Children and Young People at risk of or experiencing homelessness (respectively); Reigniting the Adelaide Zero Project: Advancing towards Zero; and, Housing Innovation – Insights and possibilities.
Toward the end of the day THA staff were celebrated for their leadership and expression of the Toward Home Alliance values of: Integrity, Trust, Respect; Collaboration, Courage and Creativity. Nominated by their peers, the spirited applause and 'hoots' that bellowed from the room in support of the recipients of the 2022 Values Led Leadership awards was affirmation in itself of their hard work, leadership and dedication.
The Toward Home Alliance Charter launch wrapped up the event. This body of work was initiated at last year's Workforce Development Day, where a list of values shaped the basis of the Charter. After an intensive 12-month consultation and governance review process, a series of beliefs were formed to inspire, inform and guide the Alliance (at all levels), and assist with decision making.
Speaking on a panel at the conference and at the pre-event dinner, Dr Heather Holst praised South Australia's collaborative approach to homelessness services.
"Collaboration between welfare agencies and government that is informed by people is essential to addressing homelessness," Dr Holst said.
"South Australia has always impressed me with their cooperation, and it's more important than ever with rising rental prices and low vacancy rates."
Shaya Nettle, Senior Alliance Manager thanked everyone who contributed to the success of the day by sharing their time, skills, knowledge, ideas and experience.
"I would like to thank the THA conference planning team and all of the speakers and panellists for their contribution to a very successful program – it's a testament to the generosity of the sector we work in.
"Collaboration is at the heart of the work we do. It drives better outcomes for the community we work with, and is role modelled daily by our front line staff. We will continue in our pursuit to 'work together, giving hope to prevent and end homelessness', and, it is events like this conference that inspire us to be even stronger in our combined resolve.
"We look forward to presenting our next THA conference in 2023 and building on the good work, collaboration and relationships in place," Ms Nettle said
To find out more information, including the conference program and presentation slides, click here.
The Toward Home Alliance partners include: Baptist Care SA, Hutt St Centre, Lutheran Care (lead agency), Mission Australia, The Salvation Army and Sonder. THA is responsible for homelessness service delivery in the Adelaide CBD, southern metro and Adelaide Hills areas.